Core Sensors Receives ANSI/UL 122701 Single Seal Certification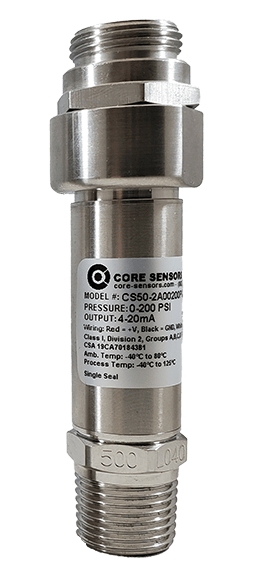 Core Sensors has received a Certificate of Compliance from CSA for a series of pressure transducers that meet ANSI/UL 122701 Single Seal standards.

ANSI/UL 122701 is a standard that "provides specific requirements for process sealing between electrical systems and flammable or combustible process fluids where a failure could allow the migration of process fluids directly into the electrical system." Source: https://standardscatalog.ul.com/standards/en/standard_122701

The Single Seal marking will be added to the CS50 Non-Incendive and CS80 Intrinsically Safe pressure transducers. Along with the Single Seal marking will be Class I, Division 2 Non-Incendive (Groups A,B,C,D) (CS50) and Class I, Division 1 Intrinsically Safe (Groups A,B,C,D) (CS80) approval markings.

The addition of this single seal certification allows Core Sensors to manufacture pressure transducers in a more cost-effective manner while keeping the overall size of the sensor to a minimum.

Visit our hazardous location product page to learn more about the CS50 and CS80 pressure transducers as well as our other hazardous location approved transducers.

For more information or to request a quote, call us at (862) 245-2673 or email [email protected].
---
About Core Sensors:
Core Sensors designs, manufactures and distributes high quality sensors for measuring pressure and temperature properties for industrial and hazardous applications worldwide. Core offers solutions for industrial, submersible, differential and hazardous applications in both standard and custom packaging. In-house design and manufacturing capabilities along with strategic manufacturing partners allows Core to create solutions to some of the most complex sensor requirements. core-sensors.com